Again? Xixixi....
Semalem mampir kemarih n liat buku tamu sapa ajah yang berkunjung
mo dibekalin ongkos pulang
dan liat2 komen.
Huaaa... makasih ya yang udah berkunjung. Kemaren saya beneran ga sempet liat blog ini from 8 to 8. Sumpe deh banyak banget kerjaan, ngurusin pendingan, dsb dsb.
sttt.. ternyata ada award dari
Irul
. Huaaaa... makasih yaaaa... mana lucu banget lagih..so pinky :)
But, frankly, i was surprised. Soalnya kayanya baru beberapa kali sayah main ke blognya, itupun cuma ninggalin jejak di shoutbox. Kenapa ga komen? Hm.. karena postingannya berbahasa inggris & sayah juga bingung mo komen apa, soalnya ngebahas tentang Tax alias pajak gitu.
Anyway, makasih lagi untuk Irul ya.
Notes...
1. Put this logo in your blog posting or
2. Invite
10 people
to take this award
3. Do not forget
to link back
the web blog owned
4. Let them know that they have received this award
by commenting
on their blog.
5.
Share the love to those who get this award
.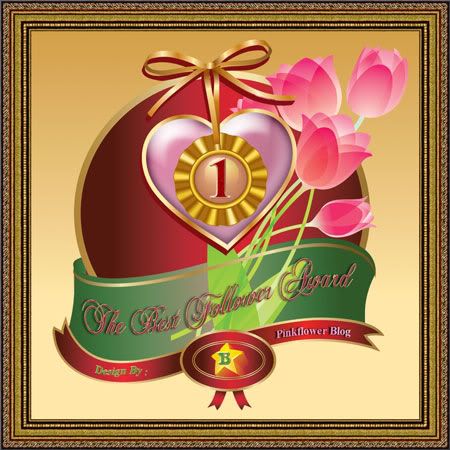 And this award goes to :
Anindya
, young talented writer;
Ode
, my highschool mate;
Rana Rasuna
, the nice rhythm name;
Afiszone
;
Melyn
, my sis who has exam now;
Jeng Sri
;
Mbah Koeng
; Pak
Guskar
;
luxsman
;
Endar
.
Hope you'll like it :)